SUNDECK COATINGS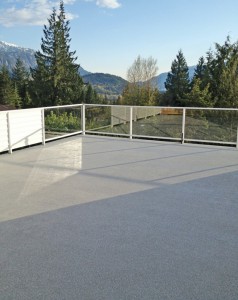 A BIT ABOUT OUR SUNDECK COATINGS' DURABILITY
Flexstone membranes are without a doubt the most durable sundeck coatings on the market today. Flexstone was originally formulated for use on ski-resort decks as a membrane that could hold up to brutal weather conditions and heavy foot traffic. The coatings' unprecedented success led to an expansion to other industrial markets like vehicle parkades, industrial flooring, and ship decks.
Because Flexstone was able to handle vehicle traffic, dramatic temperature fluctuations, and heavy foot traffic - we decided to cater to the sundeck coatings market. On a typical residential sundeck, Flexstone will last indefinitely. We know this because it passed the difficult trials associated with it's former applications (the ship decks, ski resorts, and parkades mentioned before).
NOTE: Flexstone is also fully CCMC approved (CCMC website)
A BIT ABOUT OUR SUNDECK COATINGS' APPEARANCE
Flexstone sundeck coatings are not entirely about the durability and functionality of your sundeck, we also care about the aesthetic appeal. Our sundeck coatings are offered in two different finish types. The standard colour coat is made up of our solvent-free base plus a uv stable top coat (available in the 4 colours below). Silica sand is broadcasted and back-rolled into the top layer for slip resistance.

Standard Colour Coat options
The second finish type, and our most popular option is our now famous textured stone finish. The system is made up of the base coat followed by a thin aromatic top coat which is then saturated with a blend of uv-stable and fire resistant coloured chips. These are then swept off and a clear coat is applied for added protection and to give a slightly glossy appearance. The textured stone finish is offered in three different blends (see below).
Textured Stone Finish options
INTERCHANGE FINISH TYPES
So what happens if you opt for our standard colour coat finish and decide a few years later that you want to upgrade to the textured stone? Another great quality of our sundeck coatings is that the finish can be changed at any point in time for a fraction of the initial cost. This also applies to customers who want to change from textured stone to the standard colour coat.
With all the aforementioned properties in mind, most clients assume that Flexstone Ontario sundeck coatings cost a fortune. This is not true. In fact, Flexstone is comparable in price to most other membranes on the market (ie. vinyl and fiberglass). The difference is a longer lasting deck, seamless finish,